FOREX FURY Review ~ Scam EA Warning! ! ~
If you are interested in automatic trading, you may have heard the name of EA FOREX FURY.
I feel that FOREX FURY's reputation on the Internet is positive.
But I think you should not believe such positive reviews of Forex Fury at all.
Reputation for FOREX FURY on Internet
Suspected Self-Post to FPA
Among the posts on Forex Peace Army (hereinafter FPA), the largest review site, there are many reviews such as "I was able to profit from this EA" and "It was a great EA".
However, the FPA has warned that "many positive reviews about this EA are fake self-made."
FPA has many reviews for brokers but few reviews for EAs. Some famous EAs have less than 10 reviews.
However, there were over 90 reviews for FOREX FURY as of August 2019. I feel unnatural in the number of reviews.
About reviews about FOREX FURY posted on FPA, you should not believe it.
Suspicions about Self-Made Fake Review Site
There is a site titled "ForexRobotNation", which contains various EA reviews. If you search for the names of EAs, this site often appears at the top of the search results, so many people may have seen this site once.
ForexRobotNation recommends "No1 = Forex Fury" and "No2 = Forex Steam" in the EA ranking.
FPA provides information that "Forex Fury" and "Forex Steam" are sold by the same vendor.
Two EAs that are sold by the same vendor and those forward results are not fully disclosed are recommended on this site.
Isn't it too unnatural?
Then, it is suspected that "Forex Fury" and "Forex Steam" vendor created ForexRobotNation sites for advertising purposes.
Doubt of Posting Own Work on Other Review Sites
There is a site called "Sitejabber" that reviews various services.
Search by keyword "forex" in Sitejabber, and it is as follows in order of the number of reviews.
Most = Forex Fury = 29
2rd most common = Forexsteam = 28
3rd most common = ForexRobotNation = 4
Sitejabber has no information about other EAs.
Nevertheless, there are nearly 30 reviews for Forex Fury and Forexsteam.
Moreover, positive reviews stand out.
Don't you think it's too unnatural?
I should not affirm, but my personal guess is that ForexRobotNation, Forex Fury and Forexsteam are run by the same person. And I think they are posting positive reviews of their own work on various review sites.
Therefore, you should not believe the Internet information about these EAs.

Forward Test of FOREX FURY
The result of FOREX FURY forward test is published on Myfxbook.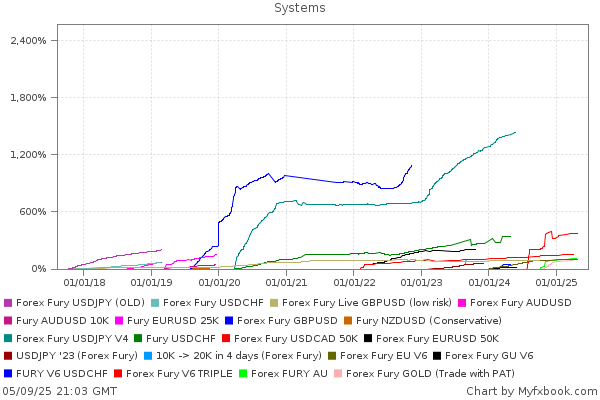 At first glance, the profit curve movement of these published results seems to be good.
However, it is important to note that most of the published results are just demo account.
There is only one real account, but it is not profitable enough.
If they are confident in making a profit, wouldn't they publish real account results?
If the trading method of FOREX FURY is the logic to close the order at 20pips or more, it may be profitable to operate with a real account.
Let's check the trading method from the transaction history.
Transaction Analysis of FOREX FURY
The characteristics of FOREX FURY transactions are as follows.

Take profit is around 5pips
Stop loss is about 20-30pips
Open positions in the morning of Asian session
FOREX FURY is a scalping EA.
The results of the scalping EA are greatly affected by slippage, etc. Even if a good result is obtained in the demo account, the profit is not necessarily obtained in the real account.
Given that FOREX FURY is a scalping EA, you should not expect the same results as the demo account results.
Although it is a demo account, it is honestly surprising that it almost ends with profits without reaching 20-30pips of stop loss, but I do not know what trading logic is lurking.

Conclusion of FOREX FURY
There are many positive reviews on the Internet, but there is strong suspicion that they are posting their own work.
Also, they may have created their own EA review site (ForexRobotNation) to make it appear to be recommended from neutral third-partys perspective.
The result published by the vendor is almost demo accounts.
Since it is method of take profit at about 5pips, there is possibility of losing when moving to the real account.
With these in mind, reviews and forward results of FOREX FURY do not deserve any belief.
If you know the positive information that FOREX FURY is a profitable EA, it might be worth using.
On the other hand, purchase is not recommended if there is no other information.